M a r k e t N e w s
Hydroclones Fast-Improving Recovery Rate at Tharisa Minerals
Posted on : Friday , 12th January 2018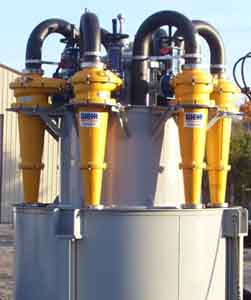 Tharisa Minerals' operations in the South-western region of South Africa for excavating platinum have received a boost as it has overseen an improvement in its mill circuit production performance by an impressive 36 percent.
Tharisa Minerals managed to achieve this by replacing its cyclones with Cavex hydroclones from industrial equipment supplier, Weir Minerals Africa.
The Cavex hydrocyclones have enabled the mine to recover 98 oz of platinum group metals in addition every month. This will see an additional revenue of USD 800 000 annually.
With this improved performance, Tharisa's payback period for the cluster of new units was just 29 days.
The mine has been functioning since 2009, it produces metallurgical grade PGM concentrate and chemical grade concentrate from shallow pit operations. These operation have been carried out using 510 mm flat-bottom cyclones fitted onto secondary mill circuit clusters. These mines were however cutting very coarsely and were inefficient.
The secondary mill circuit's primary objective was to better the mass pull to the underflow and the production of a finer cyclone overflow material.
Weir Minerals Africa have also generated a mass balance simulation using the date supplied by the customers. This further highlights the capabilities of its Cavex 500CVX hydroclones. These units have a 360° laminar spiral inlet that reduces turbulence within the hydrocyclone, improving performance and classification.
Source : www