M a r k e t N e w s
Safaricom Market Cap Crosses Ksh 1.5 Trillion
Posted on : Friday , 19th February 2021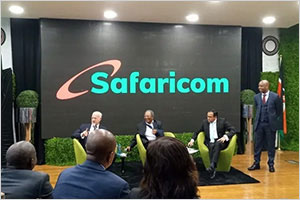 Kenya's largest listed company hit a market capitalization Ksh 1.52 Trillion after the company's shares touched a new record high of Ksh 38.
On 11th Feb, the Nairobi Securities Exchange listed firm announced it was paying an interim dividend of KSh 0.45 per ordinary share, amounting to KSh 18.029 Billion for the year ended 31st March 2021. The company's board cited the need to support its shareholders during these difficult times occasioned by the COVID-19 pandemic.
Safaricom's Ksh 1.52 Trillion market cap now accounts for 63 per cent of the entire KSh 2.4 trillion market valuation at the Nairobi Securities Exchange following the surge in the telco's share price. Over the last year, Safaricom's share price is up by 20 per cent.
Latest data shows that the top 5 companies at the NSE by market capitalization account for over 80 per cent of the market, the highest in the last 4 quarters.
Source : www.abafnz.com