M a r k e t N e w s
Kenyan Trade Lobby To Promote Imports Of Chinese Machinery To Boost Industrial Sector
Posted on : Thursday , 24th June 2021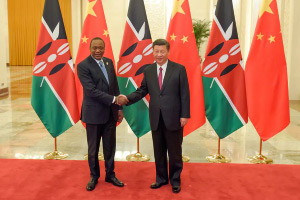 The Kenya National Chamber of Commerce and Industry (KNCCI), a business trade lobby, plans to promote imports of advanced Chinese machinery in order to boost the country's industrial sector, an official said on 2nd June 2021.
Kariuki Theuri, chairman of economic diplomacy committee with KNCCI, told journalists in Nairobi that Kenya heavily depends on foreign manufactured goods.
"We will promote imports of modern machinery from China in order to improve local capacity to produce world class products," Kariuki Theuri said when Jubilee Allianz and KNCCI launched insurance products aimed at the small and medium enterprises.
China has over the past few decades emerged as the world's preferred manufacturing hub through research and innovations, Kariuki Theuri said, suggesting that the way forward for Kenya is to adopt manufacturing techniques from the Asian nation in order to encourage import substitution.
The KNCCI official decried that Kenya imports a lot of products that can be made locally using available resources.
While saying that the east African nation has benefited tremendously from its trade with China because it has improved access to affordable consumer goods, Kariuki Theuri urged Kenyan entrepreneurs to emulate Chinese work ethic and culture in order to improve their competitiveness internationally and regionally.
Source : www.abfnz.com