I n t r o d u c t i o n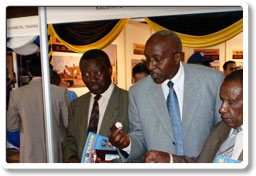 Who Should Advertise?
"AFROTRADE" provides an excellent opportunity to any commercial organization that wishes to expand its market to the giant and needy market of Africa. Such organizations could be as follows.
Manufactures, Exporters, Traders, Distributors, Agents & Wholesalers. Builders, Contractors, Industrial project consultants Airlines, Hotels, Furnished apartments, Tourism & Cargo companies Free Zones, Financial & Investment companies.
Why To Advertise?
Expansion of market is a major concern for any firm today. Africa is a market which is huge and has not been conquered by competition as any other continents else where. But, it is also the most difficult market to approach due to several reasons. AFROTRADE provides an easy access for international companies to reach their prospective buyers/clients/partners in a very simple, economical but effective way .
Advertise and avail following benefits:
East Africa Importers Directory
Online Company Listing
Distribution of Afrotrade in Major Int'l Trade Exhibitions in Africa.