M a r k e t N e w s
Tanzania: Govt Gets Media Onboard in Push for Industrialization
Posted on : Thursday , 9th March 2017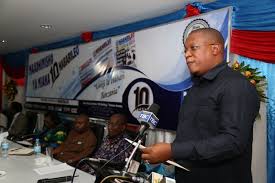 As the fifth phase government's industrialization drive rolls on, the government is now lobbying the media fraternity across the country to carry it as a national agenda.
The Minister for Information, Culture, Arts and Sports, Mr Nape Nnauye, yesterday asked senior writers, editors and owners of various media outlets to explore possibilities of establishing special desks in their newsrooms that would exclusively address and publish detailed issues on industries to facilitate government efforts to 'walk the talk.'
Mr Nnauye was speaking at a media stakeholders' meeting that brought together representatives from various newspapers, television and radio stations and bloggers through a special programme dubbed 'Wadau Tuzungumze' that was launched by the ministry.
The ministry's top officials including the minister meet stakeholders in all departments of the ministry every Tuesday for at least one hour to discuss various pertinent issues and deliberate on the way forward.
Yesterday, Mr Nnauye who was flanked by his Permanent Secretary Professor Elisante Ole Gabriel and the Director of the Tanzania Information Services (MAELEZO), Dr Hassan Abbas, said, to begin with, the ministry had picked out the industrialization agenda as a prudent starting point, based on the important role of the media in the country's development effort.
"As people in the media fraternity, we have a role to play because the government needs to be criticized in a civilized manner ... when we observe that it is headed the wrong way," he said. According to him, if the media carried a strong agenda on industrialization, the country was likely to achieve in bringing development to its people.
At the meeting, Tanzania Standard Newspapers (TSN) Managing Director, Dr Jim Yonazi made a ten-minute presentation that gave an overview of how best the media could help the country achieve its industrialization drive.
"As members of the media we need to actively participate and join hands with the government to drive the country's ambition," he said. During discussions, participants had varied opinions on how best the media could help in achieving the industrialization agenda.
The Managing Director of Jamhuri Media Limited, Mr Deodatus Balile, asked the government to put measures in place that would help the media to exist including allowing the government institutions to advertise in the private media so that they can continue informing and educating the nation including the industrialization agenda.
A veteran journalist, Mr Hamza Kasongo, commended the ministry for establishing the programme to meet stakeholders, saying it was the best way to solve various issues between the government and the media.
Source : allafrica.com