M a r k e t N e w s
Rwanda: Targets Annual Industrial Growth of 14 Percent
Posted on : Monday , 30th November 2020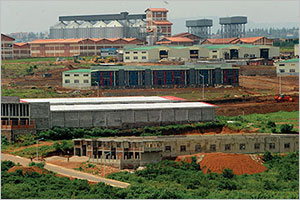 Rwanda is setting an annual industrial growth of 14 % by 2020 from the current 2 % in 2016 -17 fiscal year, Rwandan minister of industry said during celebrations of Africa Industrialization Day, at the Kigali special economic zone.
Vincent Munyeshyaka, Minister of Industry also said that his government target is to see industrial sector contribute at least 20 % to GDP up from the current 17.1 % in 2016-17 fiscal year. The move requires close partnership between the government, development partners and private sector, he added.
Vincent Munyeshyaka said "We are focusing to develop our local industries because they will play a very crucial role towards the economic growth and social transformation of our country through formation of ample job opportunities for the young generation and rapidly growing population".
Vincent Munyeshyaka noted that across the developing world, countries that have successfully industrialized their economies have greatly registered tremendous development.
He cited Made in Rwanda initiative that was launched in the year 2015 along the strategies expected to drive up consumption of local products and close trade deficit.
The minister outlined government interference geared at promoting local industrial development such as amendment of public procurement laws to give preferential treatment to local manufacturers, VAT exemption for raw materials and capital goods for manufacturing sector, and technical assistance.
He said the government looks to lowering the cost of production, access to modern technology, finance, having skilled and productive labour.
He also agreed to address quality issues and ensure consumer protection.
The event, marked under the theme "African Industrial Development: a Pre-Condition for an Effective and Sustainable Continental Free Trade Area " brought together government officials, members of the private sector, manufacturers and civil society organizations.
The objective of this year's Africa Industrialization Day was to raise awareness of the importance of African industrial development in implementing a successful Continental Free Trade Area, and thus further growing Africa's economy and supporting the eradication of poverty, according to the United Nations Industrial Development Organization.
Source : www.abafnz.com