M a r k e t N e w s
Tanzania Gold and Minerals Exports Go up In January 2021
Posted on : Thursday , 1st April 2021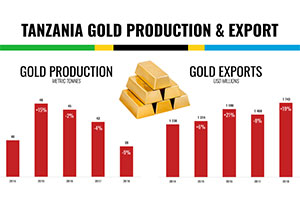 The Bank of Tanzania released its Monthly Economic Review – Feb 2021, indicating that the total exports of goods and services amounted to US$ 8,741.8 million in year ending January 2021, representing a slight decrease from US$ 9,835.5 million recorded in the corresponding period in 2020.
Traditional exports amounted to US$ 705.4 million from US$ 959.7 million, accounting for 8.1 per cent of total exports.
Non-traditional exports increased to US$ 5,298.7 million from US$ 4,268.9 million, driven by the good performance of minerals (except diamond), manufactured goods, and horticultural products particularly edible vegetables and fruits.
Export of gold increased by US$ 666.9 million to US$ 2,970.5 million on account of both volume and price effects, and accounted for 49.5 per cent of the non-traditional exports.
Non-traditional exports rose to US$ 369.8 million from US$ 365.1 million.
Source : www.abafnz.com