M a r k e t N e w s
India, Kenya To Explore Closer Maritime Security, Diversify Trade And Investment
Posted on : Thursday , 24th June 2021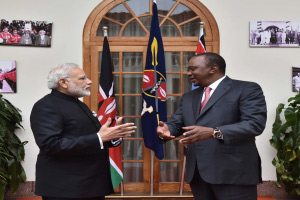 India and Kenya will explore closer security cooperation, especially in the maritime domain, diversify 2 way trade and set up joint ventures as part of a comprehensive partnership.
The agreement was reached following extensive talks External Affairs Minister S Jaishankar had during his 12-14 June visit to the East African country.
The visit was significant as it took place ahead of the 4th India-Africa Summit New Delhi plans to host later this year.
The EAM reviewed bilateral ties at a Joint Commission meeting that was co-chaired by the Kenyan Foreign Minister Raychelle Mamoma. Raychelle Mamoma also held a roundtable with defence, trade and ICT ministers and interacted with the Indian business community on building deeper business-to-business cooperation.
The EAM also met President Uhuru Kenyatta and handed over a letter from Prime Minister Narendra Modi. Modi had visited Kenya in the year 2018 and enunciated a set of 10 principles of engaging Africa.
The 2 sides noted the potential to further boost trade volumes and value. They agreed that diversification of trade and new domains of cooperation would be in keeping with their closer relationship. Specific steps in this regard will be discussed at the upcoming meeting of the Joint Trade Committee, according to the statement.
India is 1 of Kenya's leading source of Foreign Direct Investment. Kenya welcomed further investments from the Indian private sector, particularly in manufacturing, automobile, agro-processing, pharmaceuticals and affordable housing.
The 2 sides reviewed development cooperation and agreed to work together to enhance partnership through exploring further opportunities both in the government and private sector in the areas of health, higher education, environment, automotive, ICT, tourism, defence and security.
Source : www.abfnz.com