M a r k e t N e w s
Kenya, UK To Use Blockchain Tech To Free Up Trade Logistics
Posted on : Friday , 30th July 2021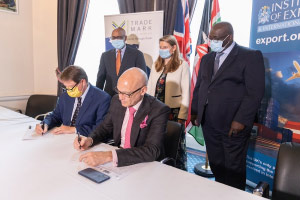 An initiative to free up 2 way trade between the Kenya and UK was launched in London on 19th July 2021.
This was through the signing of a Memorandum of Understanding (MoU) between the Institute of Export and International Trade and TradeMark East Africa at the Kenya High Commission in London.
The Memorandum of Understanding provides a framework for collaboration to implement a digital trade corridor between the Kenya and UK.
The UK-Kenya Trade Logistics Information Pipeline aims to eliminate paperwork and introduce a digital process that increases visibility up and down the supply chains.
The system uses blockchain technology to link all those in the supply chain thus seeking to enable fast logistic clearance and easier trading.
Speaking at the function hosted by Kenya High Commissioner to the UK Manoah Esipisu, East Africa Community Cabinet Secretary Adan Mohammed said the deal would see growth in bilateral trade which would benefit the entire EAC.
"We look forward to seeing the better future of this partnership grow our trade balances. What is even more significant is the key role it is going to play to support small and medium-sized enterprises," the Adan Mohammed said.
Frank Matsaert, Trademark East Africa's CEO said that the digital trade corridor would create a transparent, efficient and cost-effective way of managing trade information.
"This will support and boost trade efficiency between the both the countries. Trade Logistics Information Pipeline is also expected to support trade within the AFCTA growing trade within the continent and support global trade," Frank Matasaert said.
IOE & IT Director General Marco Forgione said that the project will deliver substantial benefits to not only the traders but last the UK in terms of positioning itself as a global leader in digital trade.
"Provisions to motive digital delivery are an increasingly important part of trade agreements and it is initiatives like that will make them succeed," Forgione said.
TradeMark East Africa is an aid-for-trade organisation funded by dev agencies of EU, Belgium, Finland, Canada, Denmark, Netherlands, France, Ireland, Norway, UK and USA.
The IOE &I T is the UK professional membership body representing and supporting the interests of everyone involved in importing, exporting and international trade.
Source : www.abfnz.com