M a r k e t N e w s
Ghana, Kenya Bolster Historic Ties
Posted on : Friday , 23rd December 2022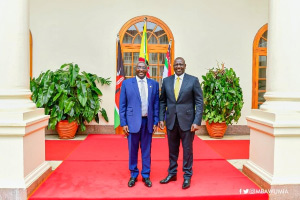 Ghana will continue to build up its economic corporation with Kenya by harnessing the potential of intra-Af¬rican trade, the Deputy Minister for Tourism, Arts and Culture, Mr Mark Okraku Mantey has said.
"The African Continental Free Trade Area AfCFTA headquartered in Accra, provides yet another incen¬tive to build up economic corpo¬ration, explore trade and investments opportunities, and contribute to Africa's accelerated socio-economic growth", Mark Mantey added.
Mr Mark Mantey made these remarks when he joined the Kenyan High Commissioner to Ghana, Mr Eliphas Barine and the Kenyan community in Ghana to commemorate its 59th Independence Anniversary in Accra on 12th December.
According to the deputy minister, the bond of friendship and rela¬tionship between the 2 countries which dates back to the days of its 1st Presidents, Dr Kwame Nkru¬mah and Jomo Kenyatta had evolved over the past couple of years.
The bond of friendship and rela¬tionship, Mr Mark Mantey noted had been shaped by the common aspiration for democratic governance and it enduring ethos including respect for human rights, freedom of the press among others the 2 coun¬tries shared.
He further said that, he was hopeful the establishment of the Ghana-Kenya Business Council and the Bi-National Commission would enhance the trade and economic dimensions of the bilat¬eral relationship between the 2 countries.
The 2 countries, Mr Mark Mantey asserted, were making efforts to strengthen corporation in other areas including Defence cooperation.
Mr Mark Mantey reaffirmed Gha¬na's commitment in working with Kenya to further strengthen its corporation in all fields of endeavour both at the bilateral and multilateral levels.
Mr Barine in his remarks said African governments had worked hard to provide the needed enabling environment in transact¬ing business which included the establishment of AfCFTA.
He therefore urged the indus¬tries in the private sector to take advantage and leverage on Af¬CFTA to improve their businesses with a much more focus on value addition.
"The governments of Africa have worked hard to provide the needed enabling environment to do business. It behoves the private sector and web to have the captains of industries present, the challenge to convert this in addition to the AfCFTA framework into meaningful trades", Mr Barine said.
Kenyan businesses, Mr Barine indicated had already taken the lead in leveraging on the opportunities related to AfCFTA which include the arrival of a vast consignment of Kenyan value added tea and car batteries in Ghana.
The High Commissioner fur¬ther pledged Kenyan support to strengthen the bond of friendship between the 2 countries while commending Ghana for its hospi¬tality to the Kenyan Embassy since its establishment 3 years ago.
He also paid homage to the Founding Fathers of both countries for their contributions towards the attainment of independence.
The occasion was graced by digni¬taries from the Ministry of Tourism, Arts and Culture, Ghana Tourism Authority, Traditional leaders among others.
Source : www.abafnz.com